It's week 27 of The Mom Challenge!  If you want to see all of the challenges see them all here.
One thing that I think is super important to establish early on is a clear line of communication.  I want to make sure that my son looks forward to telling me about his day; that he feels comfortable telling about things that may embarrass him; talks to me about things that upset him.  I want him to know that I will do my best to give advice, to listen, to understand and that I won't lie to him if asked about something (and that I expect the same in return) Things happen, true there are consequences; however, but no matter what I still love him.
Having that relationship won't just happen.  But starting out while they are young will help lead to years of good communication!  I wish I would have started this sooner because I really love the idea.  It's simple.  It's sweet.  It can be started very early.  Want to know what it is? (This is also really great if your spouse is out of town a lot or works odd hours!)
Love notes.
Melissa & Doug My Own Mailbox
First you will need to have a special place to drop off your notes.  You can choose to have a mailbox in the kitchen, mini mailboxes in each of the bedrooms (Target has some out for Valentine's Day in their Dollar Bins that would be perfect!) or just make your own!  Get creative! (The one in the photo above is a Melissa & Doug Mailbox you can get here)
Then, make sure you have paper, pens, markers, crayons and envelopes available.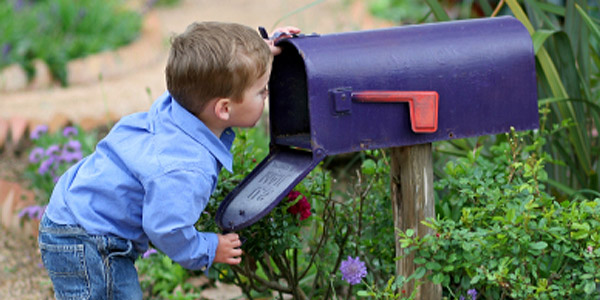 (Source)
Then get to writing, drawing or both!
Letters are a great way to express yourself.  Having some ground rules set up will make sure that it stays a positive experience.
Some rules you might have could be don't show your letters to anyone.
If someone asks you to keep something a secret you need respect that.
Notes are meant to encourage, support and uplift.  Not to hurt or embarrass.
Remember that the point is to keep the lines of communication open and encourage your child to talk to you!
Or you can chose to create journals for your children like Mama Jenn did!
And in case you need an extra reason why this idea is wonderful – think about reading your letters a year, five years, ten years later! :)