As part of our
Creating Healthy Habits: H2O-YES
! series one thing I wanted to bring to everyone's attention is how blessed we are to have fresh, clean drinking water!  Something we take for granted everyday.  Next time you go for a drink (find out how much water you should be drinking
here.
 I'll give you a hint it isn't 8, 8 oz glasses!)
I love reading stories about awesome causes and people making a difference. I think it's so inspirational of people following their dreams and changing the world.  I heard about Emily and Allyson a few weeks ago and their organization is called
Birds of Hope.
Birds of Hope
sells adorable little birds for $5 each.  Then the proceeds go to help provide clean water sources for those who need it the most.
I recently got to chat with Emily to ask her a few questions.
(Just because your young doesn't mean you can't change the world! Way to go ladies!!)
Can you give me any background information on the water problem?  How much does it cost to get fresh water available?
"The water crisis is a serious problem in countries like Zambia, Haiti, Ethiopia, Cambodia, Swaziland, and many more places around the world. In these poverty-stricken areas, the people don't have access to clean water and therefore must find it in ponds, lakes, ditches, and streams. This water is contaminated with life threatening diseases that cause sickness (stomach aches, dizziness, fatigue, and diarrhea). This forces parents to stay away from work and children to miss days of school. Eventually the sickness will lead to death. Waterborne diseases are the leading cause of death (even more than guns, cancer, and war!). The water crisis might just be the heart of poverty. However, with clean water devices like wells and filters, people can be healthy again! They are taught proper hygiene methods and how to maintain the well/filter. Records show that with clean water the people are healthier. Adults are able to go to work and support their families, while children can go to school to learn! Wells can range anywhere from $4,000 to $18,000 depending on the type and area that it is installed. Water filters (like bio-sand filters) only cost about $80 and fill supply a family with clean water for over 25 years! Both of these devices are amazing ways to bring clean water and hope for a better future to people in need."
How many birds have you sold so far?
"I have raised $37,000 for clean water projects with the organizations, Active Water, Nazarene Compassionate Ministries, and Doma International. Besides t-shirt sales and extra donations, I think I have made over 6,000 birds."
What do you hope this year will bring?
"August 1st marked
Birds of Hope
second year anniversary, so we are now in our third year! Right now, I am just following God's guidance. He has always provided for and encouraged us through this whole process. I trust Him to put me in the perfect situations to spread the awareness for the water crisis and to encourage others to be Kingdom Workers as well!"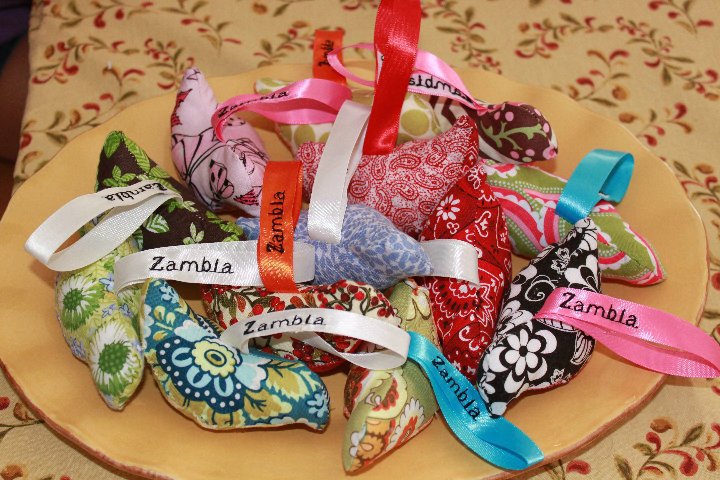 Besides buying a bird is there anything else people can do to help?
"To raise funds, we sell the birds and t-shirts. When someone is willing to take the next step, we gladly appreciate it through! Many people have donated fabric, sold the birds in their stores, invited Birds of Hope to events/markets, etc. If someone is interested in doing something like that, just make sure to email me at birdsofhope@hotmail.com so we can discuss/explain the details."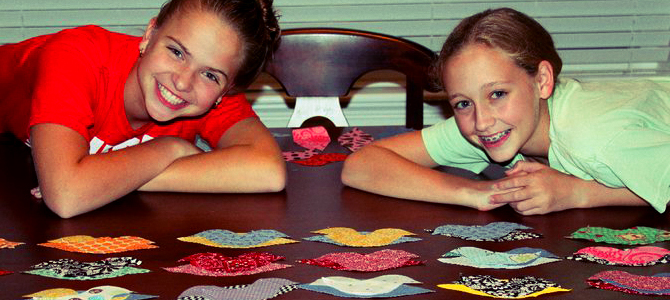 " I just recently went to Zambia, Africa this summer! Active Water (the organization we support) and Christ In Youth (the organization that organized the camp that inspired me to start
Birds of Hope
) took a team of teenagers to the town Ndola that the water projects are in. I went with my Dad and older sister, Olivia. We had an incredible time; I love Zambia! At first, it was a major culture-shock that almost left me in a daze! Haha But I soon adjusted and fell in love with the country. I enjoyed playing the sweet kids, getting to know the adults, learning the culture, and trying to speak the language, Bemba! Two of my favorite parts was the Sunday morning church service when I gave my testimony in the Zambian church and the bio-sand filter factory when we handmade the filters and delivered them to the people's homes. I have so memories and stories of Zamiba. I cannot wait to return to Zambia some day!"
For information on how to buy a bird/shirt you can visit
here
.
Please pin a picture, tweet this story or share on FB to help spread the word about Birds of Hope and these amazing young ladies!